House of Yes Welcomes Back 'LUST' for a Night of Sensual Dining & Immersive Performances
Unleash your inhibitions on June 16
"Give in to LUST at House of Yes, where all of your senses will be needed for the most decadent party of the year" -
Metro US/NY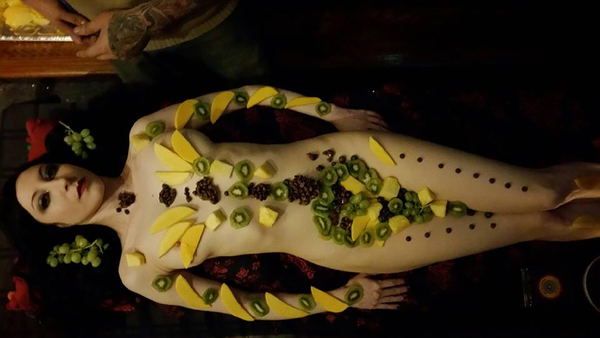 LUST Dinner (Photo Credit: Joe Fionda)
Leave your inhibitions at the door and indulge your senses and enter the risqué haven and elegant fantasy world of
House of YES
on June 16th as
Abby Hertz's 'LUST'
returns for a special night of sensual debauchery. Following the success of her debut Valentine's Day event described by the
Huffington Post
as
"enchanting",
Hertz will be joined by her troupe of lascivious ladies and sexy man slaves as she takes guests on a night of daring decadence where sexy surrealism becomes reality and scandalous inhibitions are left at the door.
To commence the night's wild antics, guests will enjoy a sumptuous feast off nude bodies using only their hands amongst kinky art installations, followed by jaw-dropping erotic performances and activities such as a sex magick ritual, live body painting, "pussy painting performance" (yes you heard that right!), rope bondage and shibari,  "interactive human candelabra", hot wax play area, glass walking, fire & aerial performances, outdoor LED showers, a gender bending rock concert and more surprises throughout the night, set to live music and a DJ. Meanwhile, guests are asked to dress in black tie, with fetish, vintage, kink, dapper and femme fatale attire encouraged. With VIP center stage passes available for those wanting to truly indulge, LUST promises to be a night like no other.
Hertz, who also goes by the name of "Lady C" is a prominent figure in the New York performance art scene. Aside from her signature exotic and lavish performances, she also has extensive experience curating, producing and performing in events for huge stars such as Simon Cowell, Rihanna, Katy Perry, Florence Welch, and Mark Zuckerberg. The return of LUST to House of YES provides a special opportunity to experience her unique take on where theater, fantasy and the erotic meet - tantalizing your senses in an intimate and sensual space as you live one night on the edge of your boundaries.
Tickets & VIP passes are available exclusively for purchase through Eventbrite here.
For more info and photos about LUST, please go to the Facebook event page
here
.
Dinner + Main Event ($125):
Slip into your fantasy night with a sensual feast off of naked bodies; be fed by sultry temptresses and sexy man slaves as they whet your palate for the exotic performances and activities to come later in the night. Decadence reigns with freely flowing Moët Champagne provided at each table and in the garden outside will be a shirtless, sexy grilling master rewarding those with appetites daring enough to step outside.
Center Stage Dinner Tickets ($185):
For those wanting to experience the créme de la créme of the evening's dinner offerings, VIP tickets are available for purchase
here
. This luxury package includes: expedited entry, dinner on stage, involvement in performances and a gift of original erotic art to take home. Each guest will be adorned with a special jewel crowning their VIP status and ensuring the servants and mistresses pay you extra special one-on-one care throughout the night.
Main Event + Art Installations + Party ($75):
After dinner be swept away and lose yourself in a night of sensual debauchery and ecstatic pleasure and be careful, the headmistress may whisk you away to share your deepest and darkest desires.
A sex magick ritual begins at
9:45pm
sharp followed by other exotic activities and performances including:
Live body painting plus interactive paint sessions

Pussy Painting Performance (it is exactly what it sounds like)

Rope bondage/shibari installation and performances

Interactive human candelabra sculpture and hot wax play area

**Select** floggings by one of our mistresses

Glass walking installation

Fire performances

Aerial performances

Erotic performance art

Burlesque

Gender-bending rock concert/live band

Lavish Garden with fire pit and cuddle areas

Outdoor LED shower--save water, shower together!

Photo booth in the Onyx Room by Adrian Buckmaster: portrait sittings by a world-renowned photographer and artist.

DJ & dance party
Artist lineup:
Abby Hertz

Veronica Varlow

Marcus Likesit and Audrey Ropeburn

Cassandra Rosebeetle

Natasha King

Flambeaux

Kai Altair

Claire de Luxe

Contessa Montebello

Sarah Sparkles

Mary Susan Sinclair-Kuenning

Joshua Oates

Lydia Vengeance

Iffy Roma

Nell Coleman

Frank Rope

Dart Hatsis

Anthony Morgan

Savannah Ferland

Taylor Nicole Paré

Michael Konovelchick
Live Body Painting by Anastasia Durasova

Photography by Adrian Buckmaster

Musical Guests Kim Boekbinder and missyou

Dinner soundscape by artist Kevin Bourgeois

Full lineup and DJ to be announced.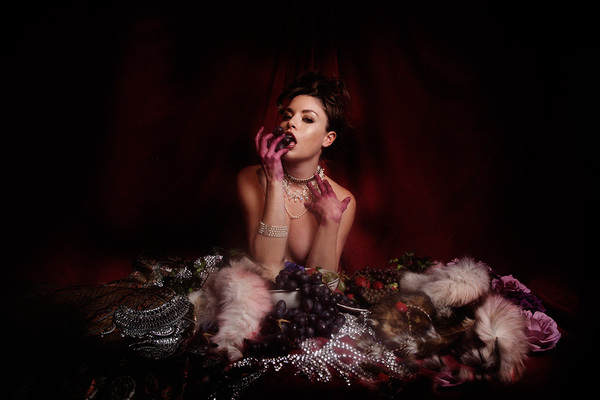 Abby Hertz as "Lady C" | LUST (Photo credit: Joe Fionda)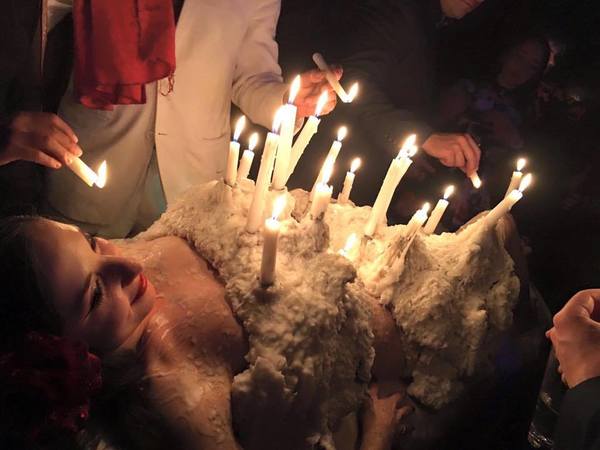 "Interactive human candelabra" (Photo Credit: Adrian Buckmaster)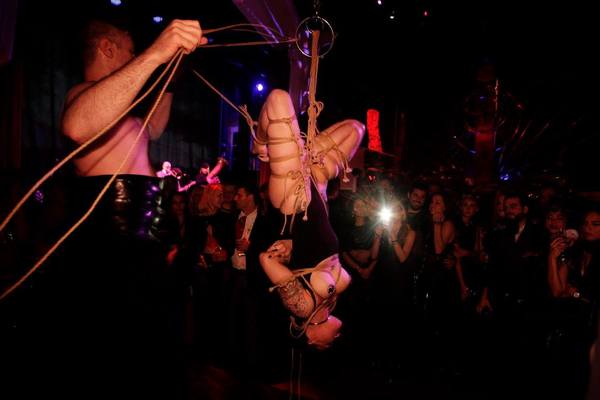 Bondage/Shibari Installation. (Photo Credit: Adrian Buckmaster)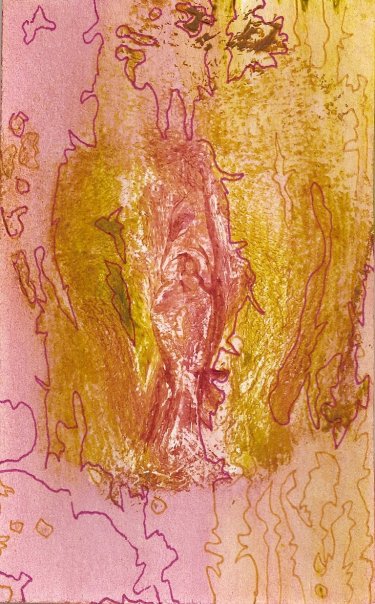 Pussy Painting by Abby Hertz

House of Yes
2 Wyckoff Ave.
Brooklyn NY 11237
Facebook.com/houseofyes
@houseofyes

@houseofyesnyc
About House of Yes:
House of Yes opened its third iteration in Bushwick at the beginning of 2016 to become a beacon of NYC nightlife after shuttering its doors too soon in East Williamsburg three years ago. Original partners Anya Sapozhnikova and Kae Burke, teamed up with Ilan Telmont and Justin Ahiyon to build out the best venue ever with a little help from their friends, seeding a Kickstarter campaign for $92,340 (original goal: $60,000). The space includes an art-deco restaurant parlor, a spectacularly decorated warehouse-sized performance space, a courtyard with kitschy repurposed decor, and a clandestine mini-club. House of Yes is now the home of circus spectacles, immersive cinema, burlesque and cabaret shows, aerial extravaganzas, nightlife parties, morning raves, brunch, BBQs, and bubble baths, all with superior sound and exemplary service. Each night is specially curated to create an immersive experience with music, theatrics, and performances to titillate the senses and expand your mind, unlike any other venue in Brooklyn right now.