Presents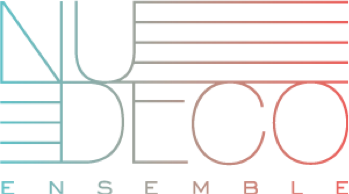 </p>

electro-acoustic ambient sounds + artistic supper club




</p>

Friday March 18, 2016 with Kate Simko (DJ Set)

Doors 7:00pm | Performance 8:30pm

</span></b></div>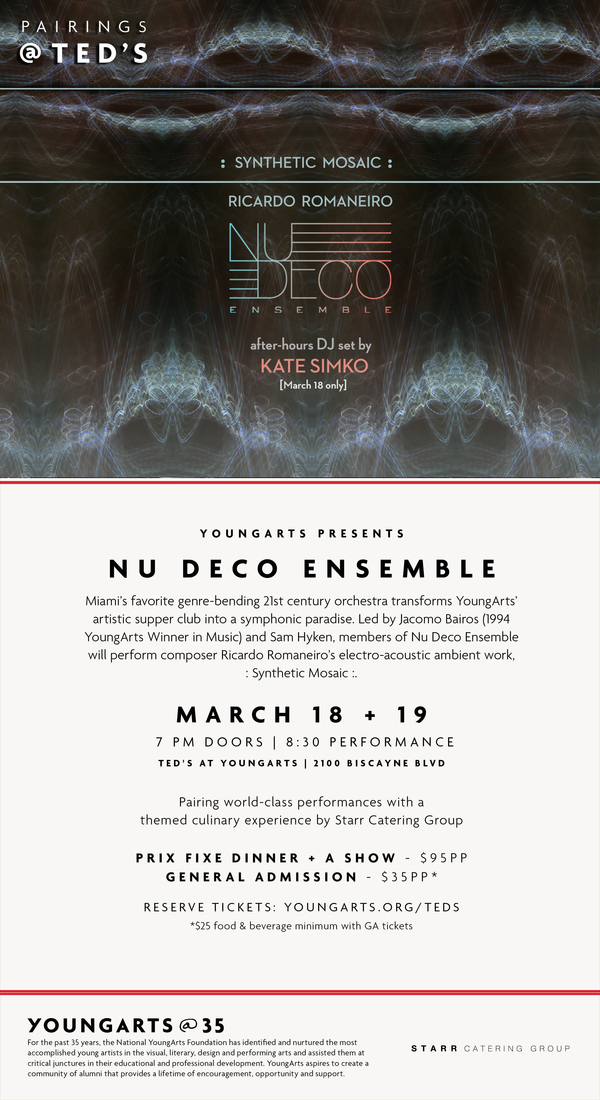 Take a break from the heady beats of
Miami Music Week
to recharge and discover composer
Ricardo Romaneiro
's electro-acoustic ambient work
: Synthetic Mos
aic :
adapted
for clarinet, percussion, keyboard, viola and electronics. Journey through a tapestry of sound and visuals paired with culinary compositions for this exclusive, intimate event on March 18 & 19, 2016.

Following the Nu Disco Ensemble performance on Friday, March 18, stay for a late night DJ set by prolific electronic music producer and film composer

Kate Simko

.
National YoungArts Foundation presents Nu Deco Ensemble featuring Romaneiro's Synthetic Mosaic at Pairings at Ted's - Miami's latest artistic supper club-inspired series that pairs world-class performances with a themed culinary experience. A contemporary take on "dinner and a show," evenings at Ted's are set atop the YoungArts Tower in the former Bacardi building. With state-of-the-art 360-degree video projection and impeccable acoustic design by Nagata Acoustics, the cultural lounge becomes an immersive artistic and culinary space every month, and offers an exceptional experience for guests and performers.
$95 PRIX-FIXE SEATING includes a 3-course dinner
$35 GENERAL ADMISSION *$25 food + beverage minimum
Special MMW 20% off with promo code:
Nudeco

2100 Biscayne Boulevard, 7th floor | Miami, FL 3313
ABOUT NU DECO ENSEMBLE

Based in Miami, Nu Deco Ensemble is a virtuosic and eclectic chamber orchestra designed for the 21st century. Through exciting and adventurous classical music performances, Nu Deco Ensemble presents various styles of music, art, and media collaborations in both traditional and alternative venues. Working in conjunction with local musicians, composers, DJs, dancers, visual and media artists, Nu Deco Ensemble creates a new hybrid of compelling musical and multi-media experiences. Blending masterful musicianship with a wide range of repertoire from classical to pop, Nu Deco Ensemble strives to be South Florida's leader in genre-bending musical exploration. Nu Deco Ensemble cultivates the education and development of tomorrow's artists through digital and interactive educational performances, young composer readings, musician workshops, as well as master-classes and competitions for youth. Through outreach, Nu Deco Ensemble aims to engage the community and present concerts for free to Miami's multi-cultural neighborhoods where exposure to live classical performance may be limited. With goals of creating and reaching new and diverse audiences, as well as providing inspiration to young people, Nu Deco Ensemble strives to enrich the arts scene of Miami in a dramatic and sophisticated fashion.
www.nu-deco.org/
ABOUT RICARDO ROMANEIRO, Composer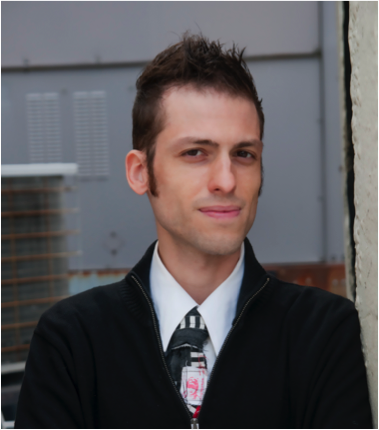 Photo Credit: Trel Brock­­
Composer Ricardo Romaneiro was born and raised in Sao Paulo, Brazil and moved to the U.S. at an early age. Ricardo earned a Master degree in composition from The Juilliard School and a Bachelor degree in composition from Manhattan School of Music. Ricardo's music synthesizes his major musical influences & passions: classical & electronic music, and the percussive rhythm/beat of his native country Brazil. The New York Times described his work Strata as "a blissful and compelling mix of Minimalist-derived rhythmic ecstasy and nightclub beats". His music has been commissioned and performed by ensembles and institutions such as the Museum of Modern Art's Summergarden Series, Metropolis Ensemble, Wordless Music, Celebrate Brooklyn! summer concerts, Ensemble LPR, Nu Deco Ensemble, the Alvin Ailey Dance Company, New Juilliard Ensemble, ACO Underwood Readings, Quintet of the Americas, the Colorado Ballet at the Ellie Caulkins Opera House, and the Sacramento Ballet.
His orchestral composition "Sombras" was featured in the American Composers Orchestra's Underwood New Music Readings, where he was the recipient of the People's Choice Award. Ricardo's composition process and music was featured in Esquire Magazine's "Best & Brightest" annual issue.
Ricardo Romaneiro is endorsed by Sibelius (Avid) and has served on Avid's Customer Advisory board for Pro-Tools and Sibelius integration and development.
www.romaneiro.com
ABOUT KATE SIMKO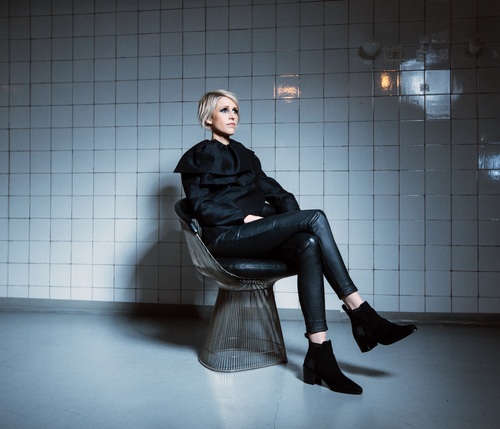 Kate Simko has carved an international career as an electronic music producer, film composer, live performer, and DJ. Hailing from Chicago, Kate's music reflects the city's underground sounds, as well her background in classical piano. While studying music at the university, Kate began DJing on Chicago's WNUR radio and taking jazz piano lessons, which inspired a shift from classical piano into a new direction as a DJ and composer.
Kate's musical output includes four albums, various EPs, and film soundtracks. Kate's past production includes a remix of Philip Glass, which appeared in Billboard's Top 100 Classical Chart. In 2008, Kate composed her first feature-length film score for the PBS documentary The Atom Smashers. The ambient, meshed with classical, soundtrack on Ghostly International was a turning point in Kate's musical direction.
Kate released her first solo album, Lights Out, in 2011, on the Berlin-based Hello? Repeat label. A 'live cinema' interactive audio-visual show accompanied the worldwide album tour. In 2012, Kate's song 'Go On Then feat. Jem Cooke' topped the end-of-year house music charts, and Kate has since released on respected labels such as Get Physical, No. 19, and Last Night On Earth. Named one of Chicago's "Top 10 DJs" by XLR8R Magazine, Kate has played clubs and festivals around the world.
In 2014 Kate completed a Masters in Composition for Screen at the Royal College of Music, where she founded her genre-bending project London Electronic Orchestra. LEO have played a handful of acclaimed live shows to date, including London's Roundhouse at the iTunes Festival, LEAF, the National Gallery, Latitude Festival, and Bestival. An international tour is planned for 2016. www.katesimko.com
ABOUT THE VENUE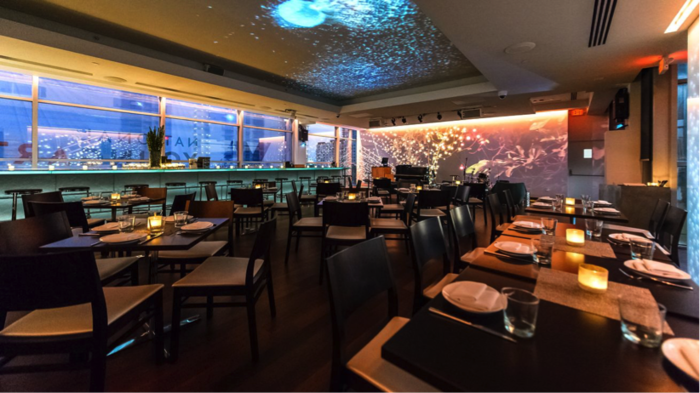 YoungArts is proud to present Pairings at Ted's, an all‐new series pairing world‐class performances with a themed culinary experience. A contemporary take on the traditional dinner and a show format, supper club‐inspired evenings are set atop the YoungArts Tower. Pairings at Ted's launched in the Fall of 2015 with singer/songstress Amanda Crider of IlluminArts and Seraphic Fire, as she leads an ensemble filled with melodies of the macabre with Musimelange, complemented by a choice of the three‐course prix fixe dinner by Starr Catering Group, or à la carte dining with general admission. YoungArts Alumnus Doug Blush, editor of 20 Feet from StardomThe Miami Herald's Critic's Pick Rudi Goblen are among the exceptional talent confirmed for this eight‐part series, which reimagines Ted's as an intimate, culinary and cultural space in Miami's tony Arts + Entertainment District.
"We've always envisioned Ted's as a place where lovers of culture, arts and food could meet" said Esther Park, Director of Campus Programming for YoungArts. "In Pairings at Ted's, we've brought together our favorite local and nationally‐recognized artists, in a supper club cabaret environment with menus created by the celebrated chefs behind Starr Catering Group. This new program embraces both Miami's growing foodie and artistic cultures, and gives audiences access to YoungArts alumni and collaborators in an up‐close and unique setting."
Pairings at Ted's
show and prix fixe dinner package includes a three‐course menu with two choices of appetizers, entrées and an assortment of desserts at $95pp (beverage, tax and gratuity not included). This premier dining experience begins at 7:00 p.m., and includes preferred seating and table service. Doors for general admission priced at $35pp open at 7:30 p.m., with small plates, wine and spirits available for purchase on site (min. $25 food and beverage required with general admission). Performances start at 8:30 p.m. sharp, followed by a meet‐and‐greet with the artists with a cash bar open for all guests. For tickets, please visit the website
www.youngarts.org/teds
</span></div> </div> </div> </div> </div> </div> </div>
</p>

</p>

</span></div>

</span></div>




For all media inquiries, please contact:

Dance Local. Think Global.




</div> </div> </div>

</body>
</html>