The BPM Festival 2016 Full Day Night Event Schedule, Live Streaming, Green Team + More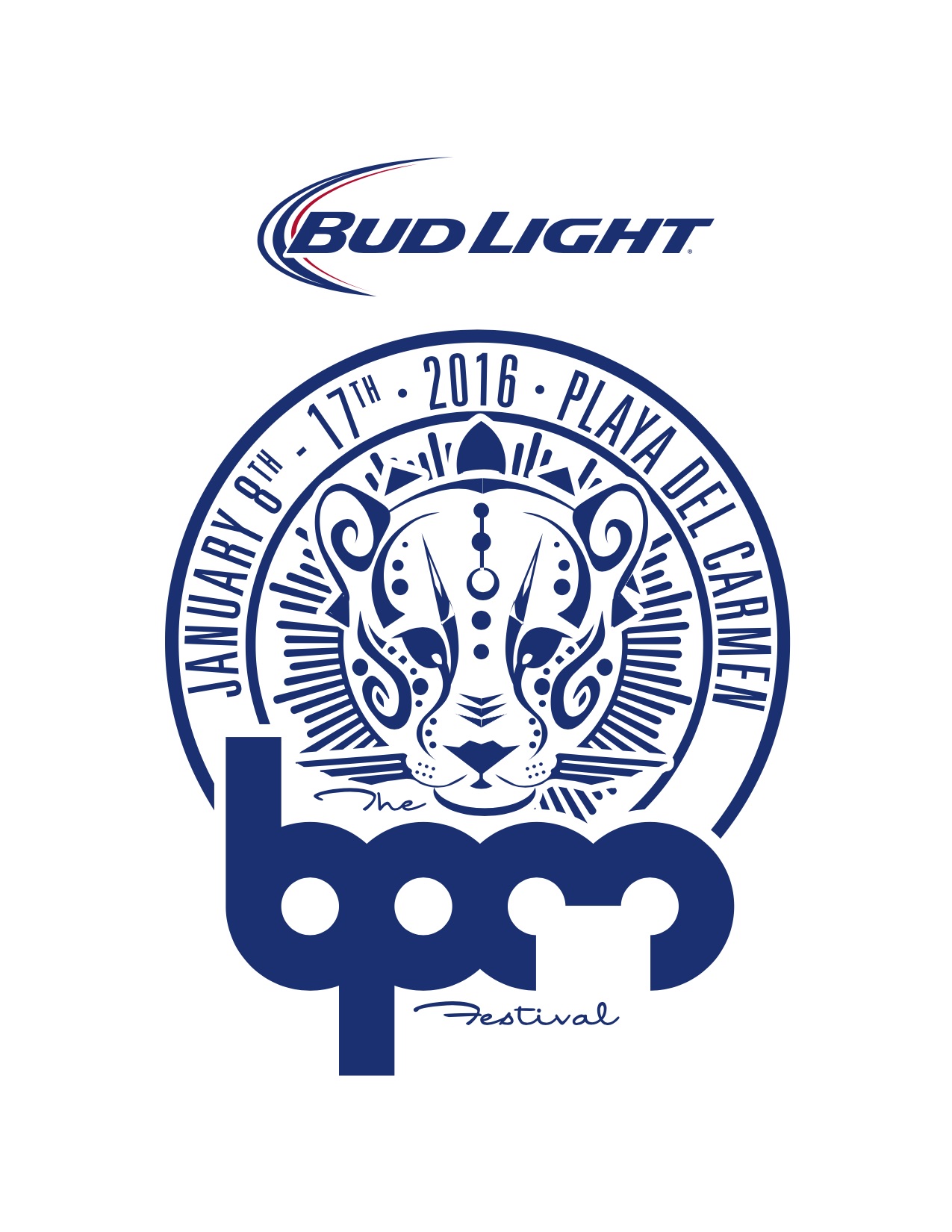 </p>

</p>

</p>

Full Day & Night Event Schedule

Live Streaming on BE-AT.TV and Ibiza Sonica Radio

Plus Green Team Initiatives and Official Mobile App

</span></div>

</span></div>

</p>

</p>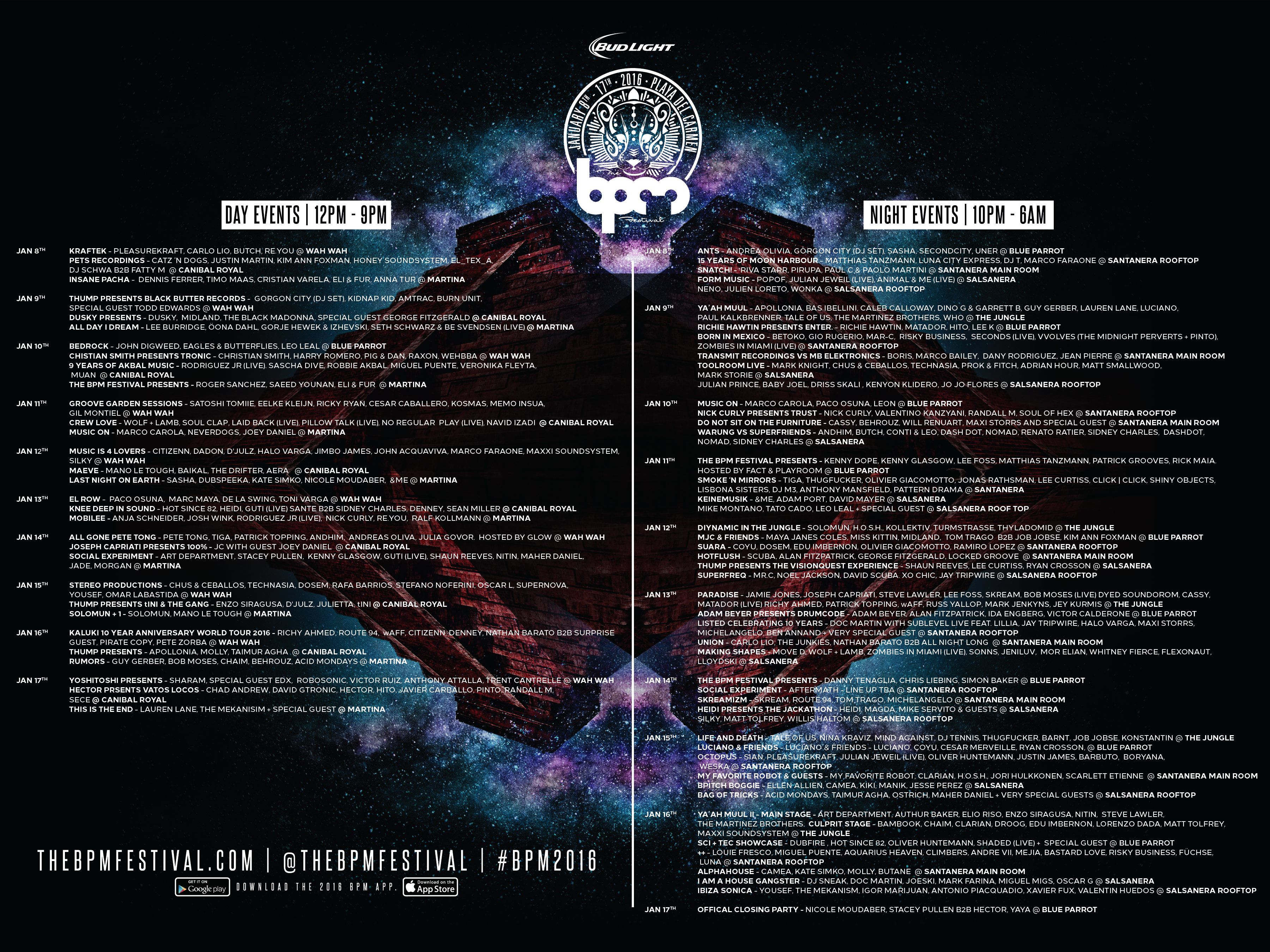 </p>

BPM Day & Night Event Schedule




The BPM Festival

announces the complete day and night events schedule for its 2016 edition in Playa del Carmen, Mexico. Now in its ninth year, The BPM Festival 2016 brings together fans from 72 countries to experience over 430 artists at more than 80 showcases spanning ten days from January 8-17, 2015.

Special Thanks To Title Sponsor Bud Light

"Without a doubt, Bud Light and BPM Festival are two brands that specialize in offering great music experiences and have

earned the love of the public. We are thrilled to bring the alliance between the world's best-selling light beer and one of the

biggest electronic music festivals in Mexico. It's very important for us to keep positioning Bud Light among the electronic music

scene, and there's no better way to do it, than with a partner that has shown its professionalism and expertise in creating great

music events. With this partnership we hope that all who attend the festival will be able to enjoy a unique experience that

includes ten days of great music and refreshing beer. This is the beginning of a long term relationship in which The BPM Festival

will be the perfect vehicle to expand and reach out new markets"

- Nicolas Mamboury, Bud Light's Brand Director


The BPM Festival is proud to partner for the fourth consecutive year with

BE-AT.TV,

streaming video and audio live from some of the best parties in Playa Del Carmen from all ten days of the event. These broadcasts,

featuring 16 events and over 60 artists, available both live and on demand,

will bring electronic music fans the full BPM festival experience, featuring the world's biggest underground labels and rising stars. Visit

www.be-at.tv/schedule

for BE-AT.TV's full BPM 2016 live stream schedule and check out the poster below.

Ibiza Sonica Radio

also returns to The BPM Festival as an official media partner, covering all day 10 days with non-stop, 24-hour-a-day broadcast dedicated to the festival.

Listen in at

www.ibizasonica.com

.

Celebrating its 10th anniversary,

Ibiza Sonica Radio,

along with Pioneer DJ, will also host

its own

Ibiza Sonica 10 Years Showcase

at the Salsanera Roof Top on January 16, featuring

Yousef, The Mekanism, Igor Marijuán (director and founder of Ibiza Sonica Radio), Valentin Huedo and Mexico's Xavier Fux.

BPM Green Team Initiatives




The BPM Festival and Lamerced Recreativa have teamed up to create environmental awareness and keep our beaches clean as we dance under the sun and stars. Last year, BPM recycled 4,755 kg and relocated 185 tons of trash. This year, look for the 75-person strong BPM Green Team, in the parties and on the beach. Please lend a hand and keep Playa beautiful. LEAVE NO TRACE!




For set times, festival map, late-breaking news and pop-up parties -- download our official The BPM Festival mobile app, now available for

iPhone

and

Android

. Get the app now to receive special guest DJ announcements during the festival, plus a handy event scheduler, camera with fun photo filters, radio section featuring exclusive mixes from BPM artists, weather forecasts, and a convenient Buy Tickets feature to purchase tickets to the festival.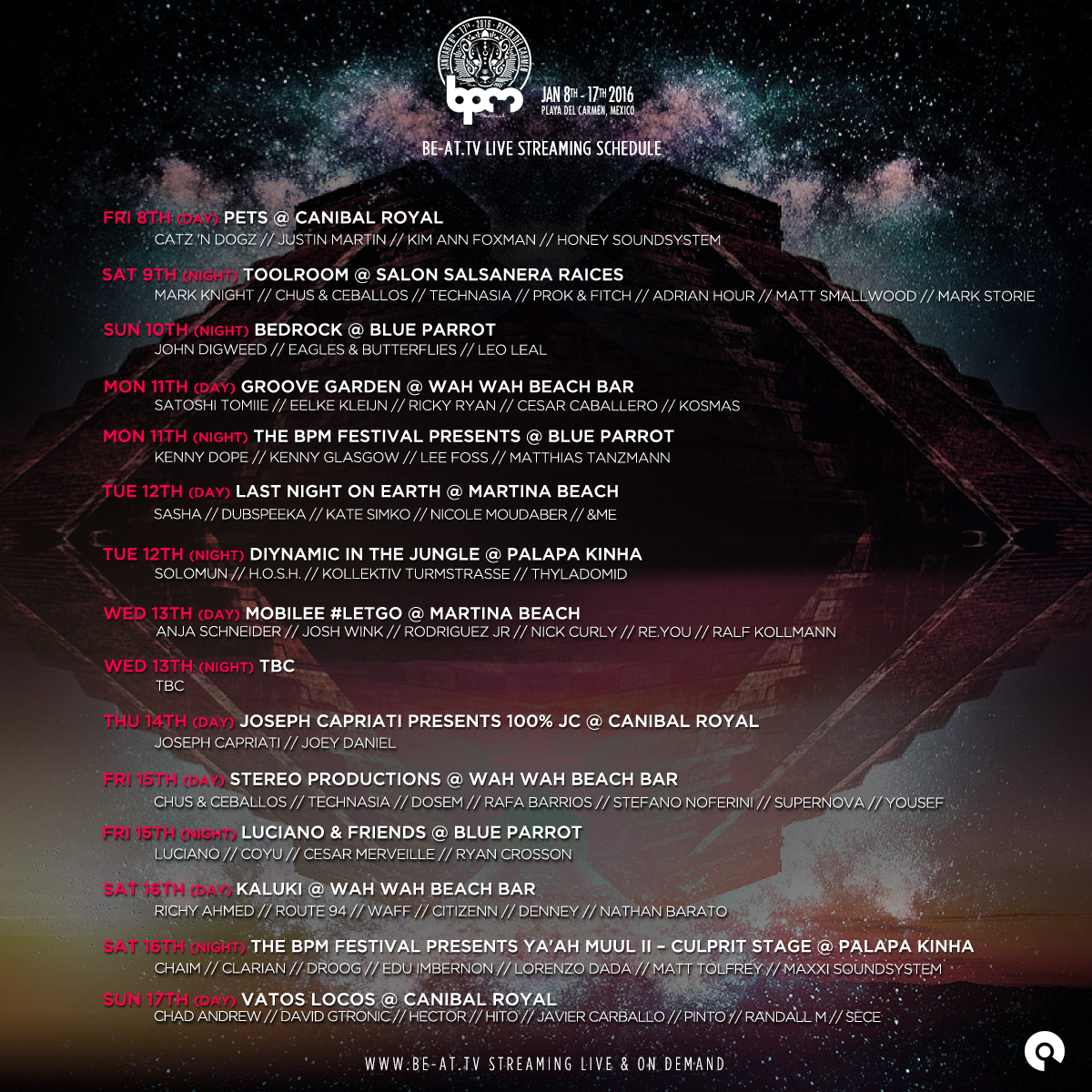 </span></div>
</span></div>
</span></div>
</span></div>
</p>




</p>

The BPM Festival is an annual ten day and night electronic music festival, founded by Craig Pettigrew and Philip Pulitano, held in Playa Del Carmen, Mexico. This global gathering of DJs, producers, revelers and industry professionals has become a must for any music lover with a discerning taste for quality electronic dance music. BPM parties are hosted both day and night at multiple venues in Playa Del Carmen, a picturesque beach town that runs along miles of soft white sand beaches and sparkling turquoise waters on the Mayan Riviera. The town offers a variety of luxurious and affordable boutique hotels and condos, and endless options for dining and tourism, including: ancient Mayan ruins, cenotes, aquatic sports and eco tourism. In 2013, The BPM Festival won 'International Festival' from the DJ Awards in Ibiza and in 2014 was nominated by International Dance Music Awardsfor 'Best Music Event.' Now entering its ninth year, The BPM Festival (January 8-17, 2016) continues to be a dance music lover's tropical paradise and the perfect winter getaway.

</span></span>
</span></div> </div> </div> </div> </div>



</body>
</html>