POPOF + Animal & Me
"Going Back feat. Arno Joey"
on
Hot Creations
Remixes From Eats Everything, Lee Foss, Miss Kitten, Luca Conzelli & Mar-T
[SoundCloud] POPOF and Animal & Me "Going Back Feat. Arno Joey" Remixes - listen here! (for posting)
"POPOF would go on to become one of the foremost Parisian techno artists...he continued his international momentum, joining Lee Foss and Jamie Jones'
Hot Creations imprint to deliver his new album,
Love Somebody." -
Billboard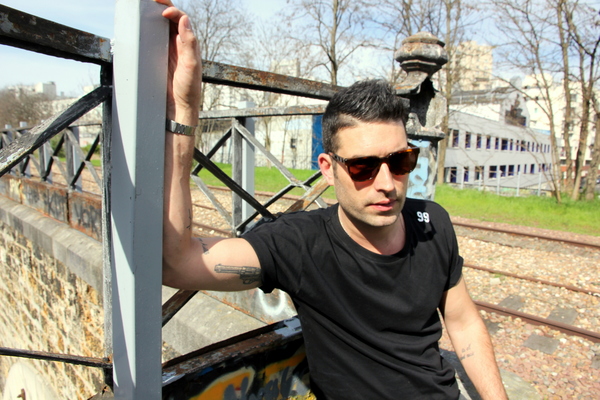 POPOF
nee Alexandre Paounov
Parisian POPOF gets set to release the second single from his stunning artist album 'Love Somebody' on Hot Creations. "Going Back feat. Arno Joey" is also a collaboration with Animal & Me with a feast of remixes from Eats Everything, Lee Foss, Miss Kittin with Oxia, Luca Donzelli and Mar-T.
Label co-head Jamie Jones tells Billboard that the Donzelli and Mar-T's remix has become a staple of his DJ sets for good reason. "The vocal is already familiar to people and it's a great one to get the peak time crowd moving," he says. "Working with POPOF has been a real pleasure. He is a versatile DJ and producer, but is also humble sweet person -- characteristics of a great artist -- and now member of the Hot Creations family. His debut live show was great at DC-10 a few weeks ago, and it was a brilliant addition to the Paradise line up."

Following in the same suit as the first single from the album, "Going Back" also features the voice of Arno Joey and is a superior piece of electronic music with great crossover appeal. Oxia and Miss Kittin team up for the first remix adding percussion and hypnotic synths, spicing things up with Miss Kittin's vocals. On the B-side, Eats Everything mixes trippy FX and a big build for the main room, while Lee Foss keeps things deep and smooth. Amnesia favorites Luca Donzelli and Mar-T offer a digital only remix with ounces of energy.
Voted Best Newcomer artist at the Ibiza DJ Awards in 2009, POPOF has gained notoriety for his work with Cocoon, and remixing the likes of Depeche Mode, Chemical Brothers, and Moby. One of the most downloaded artists in techno music, he was appointed the official mentor of the Paris Techno Parade 2013's fifteen year anniversary, a great honor he shared in front of 300,000 participants. Animal & Me is a French DJ and producer who is also known as Mono Dos on Definive.

French DJ and producers Oxia & Miss Kittin are big names in the game. Their successful track "Housewife" released in 2012 can be found on InFine. Bristolian Eats Everything has been a leader of the new wave of British DJs and producers. His releases can be found on labels such as Pets Recordings, Hypercolour and Southern Fried. Hot Creations co-founder Lee Foss has been growing from strength to strength with a recent venture with MK and Anabel Englund as Pleasure State. After releasing on Wow! Recordings, Mar-T's label, Luca Donzelli soon formed a close working relationship with him. Mar-T is also a resident of Amnesia in Ibiza.
POPOF + Animal & Me feat. Arno Joey "Going Back" + Remixes out now on 12" vinyl here. Digital out on September 4 on Beatport.

</div>
POPOF + Animal & Me "Going Back feat. Arno Joey"

A1. Going Back feat Arno Joey
A2. Going Back feat Arno Joey & Miss Kittin (Oxia & Miss Kittin Remix)
B1. Going Back feat Arno Joey (Eats Everything Remix)
B2. Going Back feat Arno Joey (Lee Foss Remix)
Digital. Going Back feat Arno Joey (Luca Donzelli & Mar-T Remix)
</p>




</p>

</p>

ABOUT HOT CREATIONS

</p>

Co-owned by Jamie Jones and Lee Foss, groundbreaking independent dance label Hot Creations has gained global notoriety in recent years through pioneering a new and unique sound born of it's founders deep affinity with old disco records, underground house, soulful beats and cutting edge techno. The label has championed the music and incredibly successful talent of Miguel Campbell, Digitaria, Denney, Richy Ahmed, Patrick Topping, wAFF, and of course Jamie Jones and Lee Foss themselves. The label is home to the Hot Natured live band as well.

</span></span></span></div>

</span></div>

</span></span></div> </div>

###

</span></span></div>

For all media inquiries (promos & interviews), please contact:

Dance Local. Think Global.

</div>




</body>
</html>