</p>

</p>

</p>

</p>

</p>

</p>

</p>

</p>

Verboten Presents StageONE Festival

With Jamie xx / Maya Jane Coles / Andhim / Matador [live] & more

Plus Food, Art, Games & Official Afterparty

"With talent from all over the globe, visual installments and true festival vibes, this day is bound to be unforgettable." -

Flavorpill NYC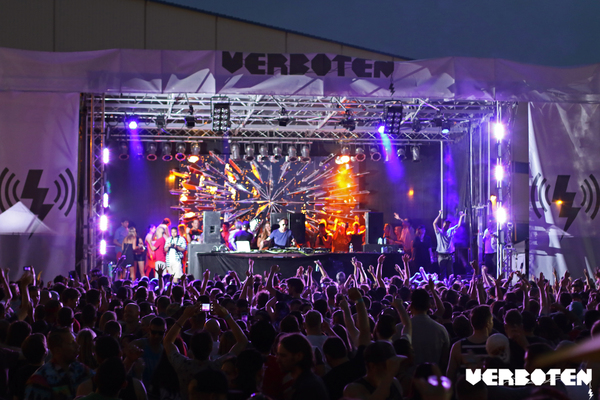 </span> </p>
Sasha at Verboten StageONE July 3, 2015 | Photo credit: Razberry Photography for VerbotenNewYork.com
</span></div>
</span></div>
</span></div>
</span></div>
</span></div>
</span></div>
</span></div>
</span></div> </div> </div>
</p>
</p>
</p>
</p>
</p>
</p>
</p>
</p>
</p>
</p>
</p>
Returning to the Brooklyn waterfront at 50 Kent Ave, Verboten's StageONE Festival presents the second edition of its top-notch four-event summer series on Sunday, August 23 with a first-rate lineup of talent, striking production of lighting and visuals, and its luscious menu of food and beverages. With his highly acclaimed debut solo album In Colour released earlier this summer, prolific beatmaker and producer Jamie xx joins Verboten resident Maya Jane Coles, a live set from Matador, German superhouse duo andhim, Ukrainian sensation Nastia, and Verboten mainstays Bedouin. The event is hosted by THUMP.
Supplying fuel for the dancefloor, Verboten's executive chef Chris McLaughlin offers a deliciously crafted menu of Tex-Mex favorites including chili dogs with queso fresco and tortilla crumbs, and a variation of carnitas, chicken, shrimp, and veggie tacos topped with mouthwatering options. Indulge in a champagne float by local ice cream company OddFellows, in addition to a variety of beer and wine options from the bar. Cool off with Gino's Italian Ices bringing their authentic recipe straight from Italy, or stay energized with help from Vita Coco's rejuvenating coconut water.
This edition of StageONE will also feature unique art installations by Brooklyn street artist Deter Ris, and brings back the hyper-surreal and otherworldly visions from Muffinhead Inc. in the form of interactive costumed performers. Delivering the best in production and visually stimulating imagery, StageONE's sound system is provided by D3 Audio, who bring the clearest, cleanest, quality sound.
Throughout the day, discover apps that are changing the approach to a night out with services such as
Jukely
and
Flux
. Take a break from the dancefloor and visit Ibiza Love Child's pop-up shop of imported clothing straight from the island of Ibiza, or play a game of Cornhole against fellow festivalgoers brought to you by Century 21.
Following the event, join the afterparty down the street at the Verboten club where Jamie xx will continue to play into the early morning hours and experience the highly anticipated US debut of Nocturnal Sunshine, Maya Jane Coles' bass-driven alter ego, as they're joined by bonus sets from andhim and Matador [live].
</span></div>
</p>
</span></div>
</p>
Verboten: StageONE
August 23 Jamie xx / Maya Jane Coles / andhim / Matador [live] / Nastia / Bedouin
50 Kent Avenue
Brooklyn, NY 11211
1 p.m. - 10 p.m.
</span></div>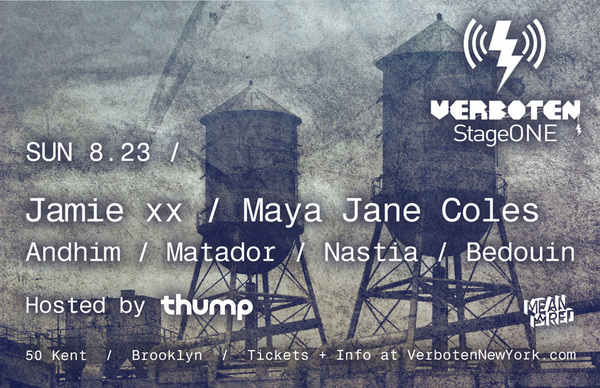 </p>
Verboten: StageONE Afterparty
August 23 Jamie xx / Nocturnal Sunshine [US Debut - Maya Jane Coles] / andhim / Matador [live]
Verboten
54 North 11th Street
Brooklyn, NY 11211
Tickets on sale now at VerbotenNewYork.com while supplies last</span></div>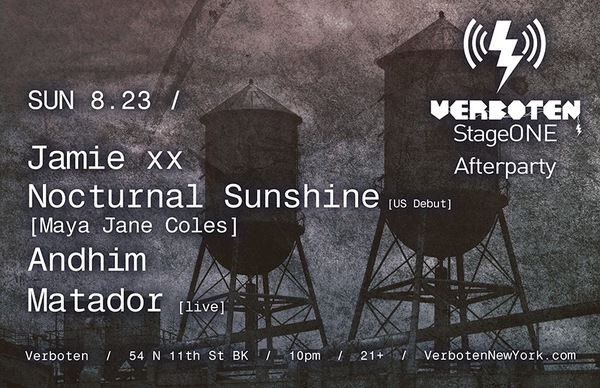 </p>
Verboten StageONE Dates
August 23 Jamie xx / Maya Jane Coles / andhim / Matador [live] / Nastia / Bedouin
September 6 Maceo Plex / DJ Tennis / David August [live] / Rebolledo / special guest DJ Koze
September 19 Detroit ♥'s SUBVERSIONS: Carl Craig pres Modular Pursuits / Audion [live] / Magda / Gaiser [live] / Floorplan / Moodymann
</span></div>
</span></div>
</span></div>
</span></div>
</span></div>
</span></div>
</span></div> </div>
</span></div>
</span></div>
</span></div>
</span></span></div> </div> </div> </div>
Facebook.com/VerbotenNewYork
@VerbotenNewYork
@VerbotenNewYork
</p>
</span></div>
About Verboten
Verboten is a leader in the New York underground dance music scene: booking, producing and promoting house music and techno parties at a variety of clubs, boats, festivals and music conferences. Verboten was founded by Jen Schiffer and John Perez with the goal to bring high quality production, exceptional customer service and the best international DJ talent to an eclectic crowd of discerning music fans. Voted "Best Dance Club" in Village Voice's 2014 Best of NYC Readers' Poll, in 2012 Verboten was also voted 'Best Party' in Time Out New York, 'Best Promoter' for Paper Magazine Nightlife Awards, and nominated for 'Best Event Promoter' in 2013′s International Dance Music Awards. In summer 2013 Verboten hosted its inaugural summer event series StageONE on the East River waterfront and it opened its eponymous new nightclub in the heart of Williamsburg in spring 2014.
###
For all media requests, please contact:
</body>
</html>