Verboten Presents Willkommen in the Park: Monthly Outdoor Deep House Yoga in McCarren Park

</p>

</p>

</p>

</p>

</p>

</p>

</p>

</p>

Verboten Presents Willkommen in the Park:

Monthly Outdoor Deep House Yoga in McCarren Park

</span></div>




</span></div>

</span></div>

</span></div>

</span></div>

</span></div>

</span></div>

</span></div> </div> </div>

</p>

</p>

</p>

</p>

</p>

</p>

</p>

</p>

</p>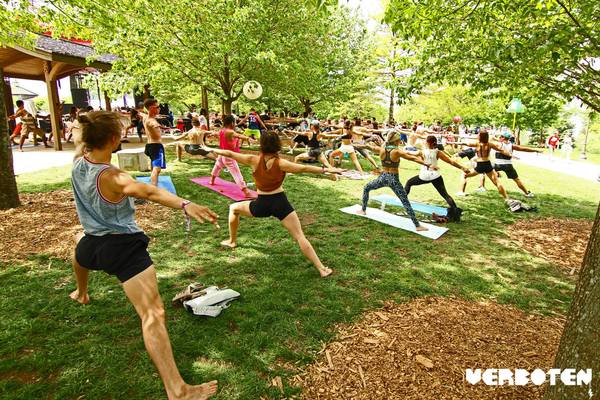 </p>

</p>

Deep House Yoga at Mysteryland USA 2015 / Razberry Photography for VerbotenNewYork.com

Verboten continues to bring together mind, body and music with WILLKOMMEN, their weekly yoga class series accompanied by the soothing deep house DJs. After two amazing sunset sessions last year in Havemeyer Park and open classes at Mysteryland USA festival over Memorial Day Weekend, the series now moves to Williamsburg's McCarren Park for a monthly summer edition of Willkommen in the Park instructed by Gina Benenati with musical accompaniment from DJ George Faya.

A limited number of yoga mats will be available and attendees are encouraged to bring their own. Water will be available. Doors at 6:30 pm / yoga at 7 pm. McCarren Park, behind the Fieldhouse at Bedford Ave / Lorimer St.
"Deep House Yoga at Verboten in Brooklyn blends the discipline with music" -
New York Daily News
"
Deep House Yoga takes "wellness clubbing" a step further, creating an opportunity for full-body contemplation in an environment that otherwise may feel incongruous to meditation and reflection. But the unlikely combination worked." -
Huffington Post
</span></div>
</p>

Willkommen in the Park: Outdoor Deep House Yoga

6:30pm /

McCarren Park (Behind the Fieldhouse at Bedford/Lorimer) / Brooklyn

$20 suggested donation upon entry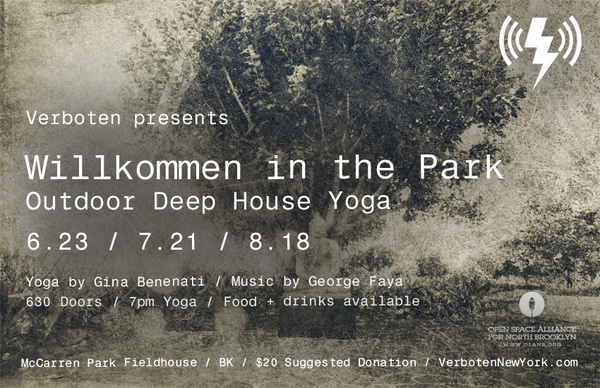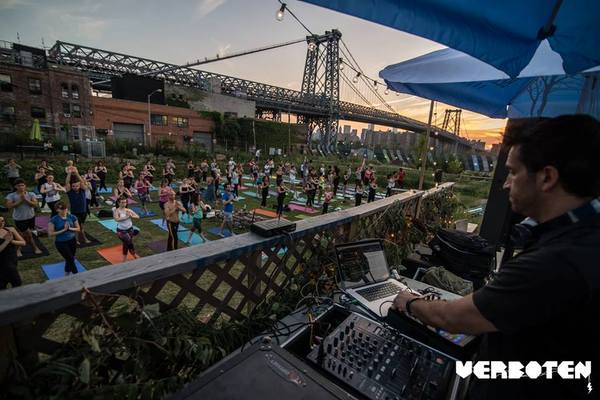 Willkommen in the Park 2014 / Menbar Photos for VerbotenNewYork.com
</span></div>
</span></div>
</span></div>
</span></div>
</span></div>
</span></div>
</span></div> </div>
</span></div>
</span></div>
</span></div>
</span></span></div> </div> </div> </div>
</p>
</span></div>
About Verboten
Verboten is a leader in the New York underground dance music scene: booking, producing and promoting house music and techno parties at a variety of clubs, boats, festivals and music conferences. Verboten was founded by Jen Schiffer and John Perez with the goal to bring high quality production, exceptional customer service and the best international DJ talent to an eclectic crowd of discerning music fans. Voted "Best Dance Club" in Village Voice's 2014 Best of NYC Readers' Poll, in 2012 Verboten was also voted 'Best Party' in Time Out New York, 'Best Promoter' for Paper Magazine Nightlife Awards, and nominated for 'Best Event Promoter' in 2013′s International Dance Music Awards. In summer 2013 Verboten hosted its inaugural summer event series StageONE on the East River waterfront and it opened its eponymous new nightclub in the heart of Williamsburg in spring 2014.
###
For all media requests, please contact:
</body>
</html>