Update: 4th Verboten StageONE Date Added With Maceo Plex, DJ Koze, DJ Tennis, David August (live) on September 6
Hi there,
</p>
Verboten is excited to present another edition of StageONE on September 6 with
Ellum label head
Maceo Plex
bringing his heart-pounding beats to the massive outdoor sound system. Joining him is
DJ Tennis
, techno visionary and founder of the acclaimed
Life and Death
label, and cutting-edge producer
David August
, who releases on
Diynamic Music
and
Innervisions
, and was named one of Resident Advisor's top 5 live acts in the world. Rounding out this stellar lineup of techno heavyweights is the very special guest, German DJ and producer
DJ Koze
.
The lineup for StageONE on September 19

is announced, with
Carl Craig's Detroit Love concept paired with Matthew Dear's avant-garde Subversions residency,
featuring Dear's notorious alter-ego
Audion
showcasing a high-class, innovative live sound, along with a hand-picked selection of globally revered techno legends including Carl Craig,
Magda, Gaiser [live], Floorplan, and Moodymann.
July 3 Last Day On Earth: Sasha / Scuba / Guti [live] / Agoria / Kate Simko / Brad Miller / special guest Joris Voorn
August 23 Jamie xx / Maya Jane Coles / Andhim / Matador / Nastia / Bedouin</div>
September 6 Maceo Plex / DJ Tennis / David August [live] / special guest DJ Koze
September 19 Detroit ♥'s SUBVERSIONS: Carl Craig pres Modular Pursuits / Audion [live] / Magda / Gaiser [live] / Floorplan / Moodymann
</div>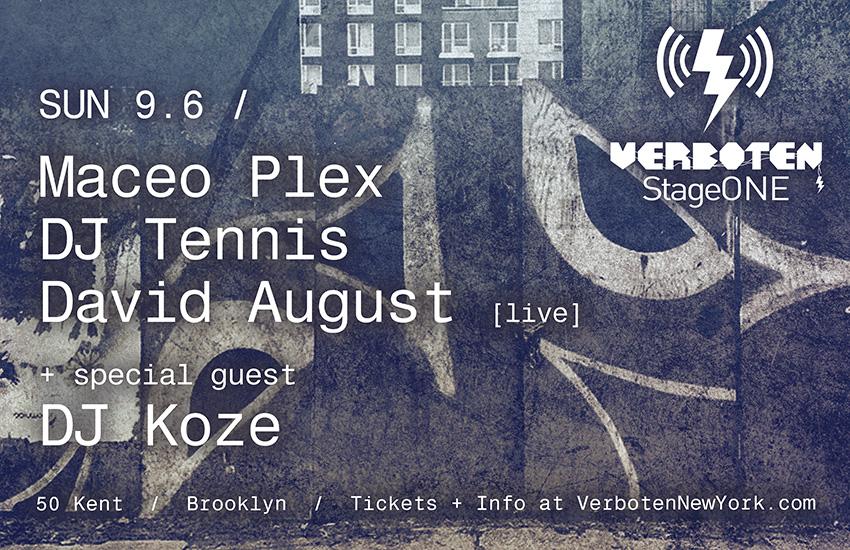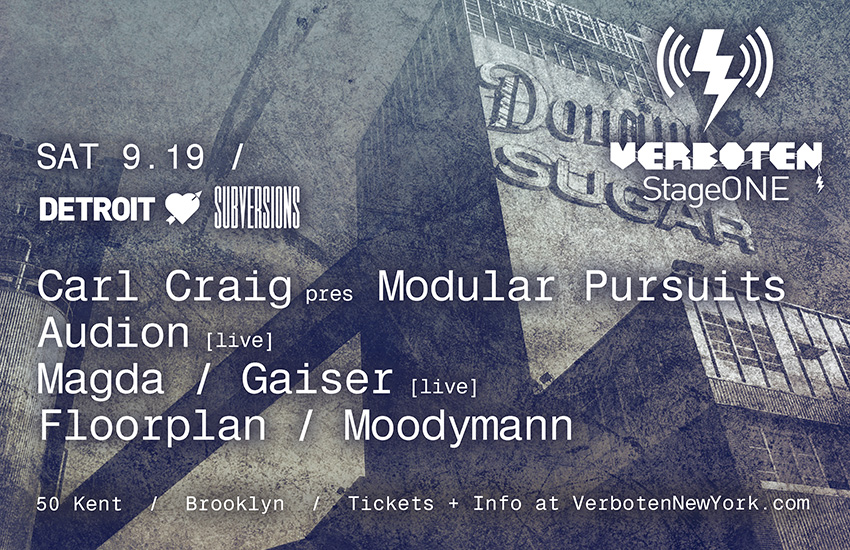 </div>

</p>

</p>

</p>

</p>

</p>

</p>

</p>

Verboten Presents StageONE Festival

Brooklyn Waterfront Series Returns At 50 Kent Avenue, Kicks Off July 3




</p>

July 3 Last Day On Earth: Sasha / Scuba / Guti [live] / Agoria / Kate Simko / Brad Miller / special guest Joris Voorn
August 23 Jamie xx / Maya Jane Coles / Andhim / Matador / Nastia / Bedouin

September 6 Maceo Plex / DJ Tennis / David August [live] / special guest DJ Koze
September 19 Detroit ♥'s SUBVERSIONS: Carl Craig pres Modular Pursuits / Audion [live] / Magda / Gaiser [live] / Floorplan / Moodymann

</span></div>

</span></div>

</span></div>

</span></div>

</span></div>

</span></div>

</span></div>

</span></div> </div> </div>