Made Event presents John O'Callaghan @ Cielo- July 9th
FOR IMMEDIATE RELEASE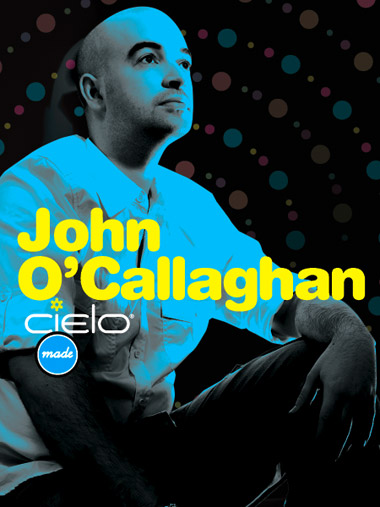 Thursday, July 9th, 2009
Made Event presents
John O'Callaghan
@ Cielo
Made Event presents Irish trance superstar John O'Callaghan at Cielo on Thursday, July 9, 2009
It has taken John O'Callaghan just 5 short years to outrun his 'next big thing' tag and move over to the A-list fast-track. DJ sets at some of the world's premier events and consistent quality studio work define John as a masterful dance artist with a unique ear for trance and a pin-point style of mixing. Last year this gifted Irishman recorded his first Radio 1 Essential Mix and entered the prestigious DJ Mag Top 100 list at No. 60. He also picked up 'Best Producer' and 'Best DJ' trophies at the Irish Dance Music Awards, as well as decisively conquering the competitive dance-testing ground of Ibiza with dates at Judgement Sundays and Armada @ Amnesia.
Since making his first moves into the studio in 2003, John has provided dance floors with a slew of releases on respected labels such as Armada, Vandit, and Doorn Records. Club killers like 'The Chamber', 'Exactly' & 'Space & Time' have all become mainstays of trance sets the world over. In 2007, John released the track 'Big Sky'. Upon release, it rapidly gained modern trance classic status, virtually taking on a life of its own. That year, it was voted No. 1 trance tune on A State of Trance.  Although his studio career carries more of an original production bias, John has provided his own interpretations of tracks by Armin van Buuren, Agnelli & Nelson, Dogzilla, Ronski Speed and Filo & Peri amongst others.  Often reaching cult status amongst underground trance enthusiasts John's studio work has made him one of the most in-demand producers & remixers in electronic dance music today.
In 2009 John O'Callaghan stands at the threshold of dance superstardom. His second album Never Fade Away and its single 'Find Yourself' have been garnering positive reviews throughout the world of dance music. The album is being hailed as one of the best trance albums in years. The single has already been described as bigger then 'Big Sky' by the likes of Armin van Buuren, Judge Jules, and Gareth Emery. 'Find Yourself' has poised itself to be a feature in DJ sets throughout the world for some time.  Along with multiple summer dates at Cream Ibiza and a successful monthly radio show on DI.fm entitled 'Subculture', John has quickly found himself as one of the primary ambassadors of the new trance sound.
Cielo
18 Little West 12th Street
New York City
Doors at 10pm, 21+ Valid ID
$15 Advance Tickets while supplies last at www.made-event.com
Tickets also available at Rebel Rebel, 319 Bleecker St NYC 212.989.0770
Event Info 917.723.9381
www.johnocallaghan.net
www.myspace.com/johnocallaghan
www.cieloclub.com
Made Event NYC Upcoming Dates
July 9 John O'Callaghan @ Cielo
July 17 Matt Darey @ Cielo
September 5 & 6 Electric Zoo: New York Electronic Music Festival @ Randalls Island Park

About Made Event
The Made Event team, headed by Mike Bindra and Laura De Palma, is committed to excellence in the programming, promotion, and production of electronic dance music events. They continually bring a world-renowned caliber of entertainment into a variety of distinctive and innovative venues, and seek to push the limit of expertise in their field. With over 20 years of combined experience, and over 300 successful events produced in New York City and at Winter Music Conference, Made Event is an industry leader. For more info, please go to www.made-event.com.