Made Event presents GUY GERBER (Live) @ Cielo - November 23rd
Friday, November 23rd
Made Event presents
GUY GERBER (Live)
With DJ Connie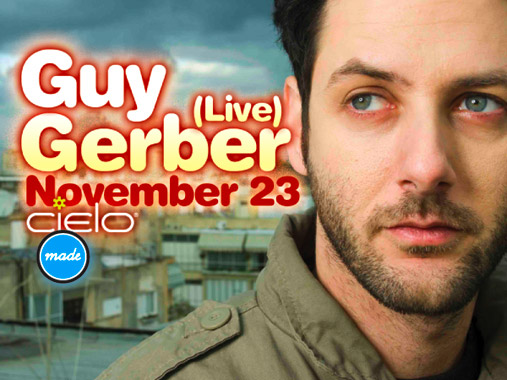 Made Event presents Tel-Aviv based, Cocoon newcomer GUY GERBER (Live) with Halcyon's DJ Connie at Cielo on Friday, November 23rd, 2007.
Guy Gerber released his debut artist album 'Late Bloomers' on Cocoon earlier this year to great world-wide support and an international tour. He has spent the latter half of 2007 building and developing his Supplement Facts label, considered to be one of the fast growing choice labels around. The self-imprint ends 2007 with a release from Gerber himself and sometime production partner Chaim with the "Saltamonte" (meaning grasshopper in Spanish) EP.
Guy Gerber has been stirring up electronic audiences with his anthem releases, and live shows for quite some time. After countless productions for major labels, dance ensembles, and electro rock bands, which earned him many awards and praises, Guy was ready for a major hit. His universally embraced single on Bedrock Records "Stoppage Time" became the stand out anthem of the year at the likes of Cocoon at Amnesia, and DC 10. The single has surpassed the 5-digit mark in sales and continues to shift by the truckload and to appear on numerous compilations.
Last summer's success led to Guy joining the Cocoon family. First came, "This Is Balagan," which attracted Sven's attention to Guy's unique melodies and production skills. The "Sea of Sand" collaboration with Shlomi Aber which appeared on Cocoon's Compilation F, with its breath taking memorable melody, introduced Guy's production to a wide new range of electronic audiences. When the single came out, accompanied by "After Love," Guy was already spotted as the hottest name around. On New Year's Eve 2007, Guy introduced to the world his new live show, rocking major events and festivals such as Time Warp and SAMC ever since.
Guy Gerber and Chaim's 'Saltamonte' EP is released 26 November on Supplement Facts.
www.madeevent.com
www.guygerber.com
www.myspace.com/guygerber
www.myspace.com/supplementfacts
www.cieloclub.com
Cielo
18 Little West 12th Street
New York City
Doors at 10pm, 21+ Valid ID
$15 Advance Tickets at www.ticketweb.com
Event Info 917.723.9381
Tickets also available at
Rebel Rebel, 319 Bleecker Street NYC 212.989.0770
Dancetracks, 91 E 3rd St NYC 212.260.8729
Made Event NYC Upcoming Events
November 16 Eric Prydz @ Pacha New York
November 22 Paul Oakenfold + Sandra Collins @ Pacha NYC
November 23 Danny Tenaglia @ Webster Hall
November 23 Guy Gerber @ Cielo
November 30 Robbie Rivera @ Pacha NYC
December 7 Mauro Picotto & Sander van Doorn @ Webster Hall
About Made Event
The Made Event team, headed by Mike Bindra and Laura De Palma, is committed to excellence in the programming, promotion, and production of electronic dance music events. They continually bring a world-renowned caliber of entertainment into a variety of distinctive and innovative venues, and seek to push the limit of expertise in their field. With over 20 years of combined experience, and over 300 successful events produced in New York City and at Winter Music Conference, Made Event is an industry leader.