Friday, November 19th
Made Event presents
ERIC PRYDZ
NYC DEBUT!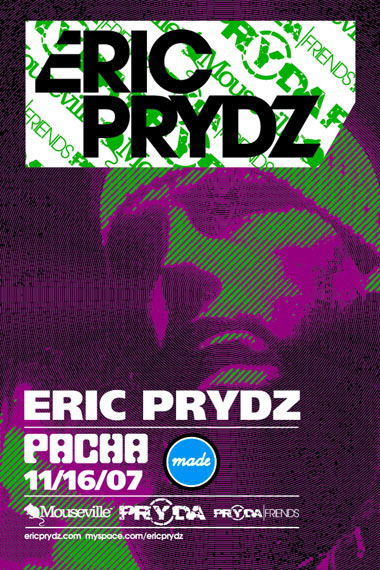 Made Event presents the NYC debut of renowned Swedish DJ and producer ERIC PRYDZ at Pacha NYC on Friday, November 16th, 2007. This marks the long-anticipated North American debut of a rising star.
Eric Prydz propelled to fame after his 2004 hit single "Call on Me" topped the UK singles charts for five weeks and held the number one spot on the German Top100 for six consecutive weeks. Earlier this year, Prydz released a blistering track sampling Pink Floyd's "Another Brick In The Wall" into Eric Prydz vs. Floyd "Proper Education" on Ministry of Sound. This is the first time a Pink Floyd record has ever officially been cleared. Lacing David Gilmour's caliginous vocals with an immense electro bassline, Prydz builds on the epic nature of the original, molding it into a bouncy slice of crossover brilliance. Using both the original vocal and other musical elements of the 1979 hit, the Swedish house don gives a respectful nod to the anti-establishment aesthetics of the record, while perfectly bringing it up to date, giving it a new lease of life for another assault on the charts.
The video for "Proper Education" set off its own sensation with a poignant environmental message and timely focus on climate change and the issues surrounding global warming. Set in a London estate, it features a gang of young people breaking into local flats, in order to switch appliances off standby, change light bulbs for energy efficient alternatives, place bricks in toilet cisterns, alongside a series of other energy saving measures.
Eric Prydz is on a roll at the moment, without doubt leading the way. His labels Mouseville, Pryda Recordings and Pryda Friends are positively brimming with underground club hits. Eric is now in charge of three highly respected labels whose releases are in feverish demand, consistently selling huge quantities of vinyl which is truly incredible in the markets current climate. The labels are arguably proving to be the most successful and forward thinking imprints currently existing. Each label was strictly developed to give Eric a platform to release his own productions without outside interference, simply his music on his terms. It was important for Eric to step back after his previous successes and release music without schedules and pressure. Ultimately he wanted to control his own image and destiny, something extremely important to him and his career. The ethos behind the labels was truly underground, scarcely any promotion, no press intrusion and true label design/identity... a formula which has proven massively successful.
As Mouseville Records and Pryda continue to deliver the dancefloor goods, Eric Prydz is now one of the world's most in demand underground spinners and producers. With his debut artist album and new single set to drop, Eric continues his upward trajectory and propulsion onto dancefloors around the world.
PACHA NEW YORK
618 West 46th St
New York, NY 10036
For VIP Table Service: 212.209.7500
Doors open at 10PM, 18+ with Valid I.D.
$20 Advance Tickets www.ticketweb.com while supplies last
www.pachanyc.com
Tickets also available at
Rebel Rebel 319 Bowery, NYC 212.989. 0770
Dancetracks, 91 E 3rd St NYC 212.260.8729
Event Info 917.723.9381
www.madeevent.com
www.ericprydz.com
www.myspace.com/ericprydz
www.pachanyc.com
Made Event NYC Upcoming Events
November 16 Eric Prydz @ Pacha New York
November 22 Paul Oakenfold + Sandra Collins @ Pacha NYC
November 23 Danny Tenaglia @ Webster Hall
November 23 Guy Gerber @ Cielo
November 30 Robbie Rivera @ Pacha NYC
December 7 Mauro Picotto & Sander van Doorn @ Webster Hall

About Made Event
The Made Event team, headed by Mike Bindra and Laura De Palma, is committed to excellence in the programming, promotion, and production of electronic dance music events. They continually bring a world-renowned caliber of entertainment into a variety of distinctive and innovative venues, and seek to push the limit of expertise in their field. With over 20 years of combined experience, and over 300 successful events produced in New York City and at Winter Music Conference, Made Event is an industry leader.